Ham Radio - Camera - Computer - F8HP - UV5R - Baofeng - Pofung
Product Review


VV-808S

Compact 10W
Compact Single Band
Mobile Transceiver

136-174MHz / 400-470MHz
FM Broadcast 87.5-108MHz
The VV-808S series is the original single band version of the VV-898 dual band. The radio has the same features as it's big brother, but is available in a less expensive VHF or UHF configuration.

The 808S is a full featured 10 watt Single Band transceiver that packs a lot into a small package. Don't let the small size fool you. Only 120 x 90 x 40mm (4.7 x 3.5 x 1.6"), this is not just a repackaged handheld a small case.

Its unique size qualifies it for operation where neither a handheld nor mobile quite fits the application. It is ideal for mounting in small cars, Go Boxes, bicycle, etc. Any place where good performance is desired but space is limited. One of my vehicles is a Toyota RAV-4 and it mounts quite nicely.

The radio can store up to 199 channels as well as up to 30 FM broadcast channels.




In the Box



Included with the radio are:
- Microphone with a 16 button keypad and volume control buttons
- Chrome metal microphone clip
- Metal mounting bracket with screws
- DC power cable with connector
- User manual
- USB Programming cable (optional)




Enclosure



The frame is rugged, with a solid cover and a hefty aluminum heat sink. This is more than adequate to handle the transmitter's power. A solid metal mounting bracket is also included in the package. I've seen the VV-808 advertised with both BNC and SO-239 antenna connectors. The radio I am reviewing came with a SO-239, which is actually my choice of the two.




Transmitter



- Power: The VV808S is rated at 10W on VHF, with 4-5W on low power.

My first test was with the optional Leixen YW-1230 AC/DC12VDC power adapter.
The VV808SV showed 9.5W into a Telewave 44A wattmeter.

The second test was with my 13.6VDC regulated power supply, which more accurately simulates a mobile installation.
The VV808SV showed 10.2W output (High) and 3.5W (Low).
The VV808SU showed 9.0W output (High) and 4.5W (Low).

This is only 2-3db under what a 25W mobile would produce. On the air testing produced good transmit audio quality reports.

- Microphone: The RJ-45 microphone jack has the same pin output as the Kenwood.
Pin Diagram

- Steps: The frequency steps range from 2.5 to 25 kHz, so you should be able to program any frequency desired.




Receiver



The receiver sensitivity is on par with any mobile I've used in the past. The receiver audio is a bit high pitched, but the quality is very clear and undistorted, even at full volume. If you like the full rich sound of a larger speaker, there is a speaker jack in the rear. I also found when driving in metro areas, an occasional pager signal might pop through the squelch.




Extra Features



The radio contains several features found only in commercial radios. Features such as Group Calling, Talk Around, Wireless Field Programming, Wireless Frequency Changing, Reverse, and Audio Scrambling.
Note: The use of an audio scrambler is not be allowed in some countries. Check your country's regulations before using.




Programming



As with any new transceiver, manually programming takes a little to get used to, but is pretty straight forward once you program in a few channels. A Manual Programming guide can be found at Program Guide with a Menu Definition summary available at Menu Definitions.

Although the radio is not shipped with software, it is easily obtained and downloaded from the manufacturer's website or at Miklor.com VV808 Software.

The software requires a user name and password for access.
User = "ham" Password = "12312345"

The software is very basic and straight forward and I was able to enter 15 repeater channels in about 10 minutes.




Programming Cable



The programming cable is a 1m (39") USB to Serial RJ-45 type. The cable I received uses a genuine Prolific chipset and requires no special drivers. It will load the current required driver directly from the internet.

Note: In some cases, this cable is optional. Some vendors are supplying cables that require a backdated Prolific driver. If this is the case, Prolific Driver 3.2.0.0 can be found at DRIVER




AC Power Adapter



One of the available options is the YV-1230 power adapter. The output is 12V at 3A and powers the radio nicely for desktop operation. The unit is available for about $13 USD.


DC Power Cords



Additional fused DC power cords are also available for about $11 USD.



Front Panel Operation



The buttons are clearly marked and backlit for easy viewing. There are 3 programmable buttons (P1, P2, P3) each of which selects 2 of 15 available options.


Click to enlarge


Channels can be assigned to the scan group, however, the scan rate is only 5 channels per second. If you are looking to scan a large number of frequencies, this could take some time.

Up to seven Alpha Numeric characters (upper and lower case) can be displayed to identify each channel.




Size Comparison



The 808S and 898 share the same chassis size. Below is a side-by-side comparison of two popular transceivers with the Leixen mobile.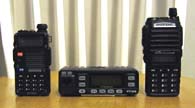 Click to Enlarge

RF Safety

RF energy at any power level should not be taken for granted. RFSafetySolutions.com explains the effects of RF on the human body. An excellent tutorial for beginners and old timers alike.




Pros



Small compact size
Lightweight and durable enclosure
Excellent sensitivity as well as transmit and receiver audio quality.




Cons



Small amounts of receiver interference in metro areas
Programming manually isn't all that bad, but software is a bit easier.




Conclusion



If you're looking for a small, single band "Cross Over" style transceiver, this may be one to consider. Great for a Go Box, boat or small vehicle. Much smaller than the average mobile rig, but definitely not to be confused with a handheld. It fits a niche market, and for the price and features, it is well worth the money.


Programming, specifications, etc can be found at Miklor VV808S

Available from Amazon, eBay, and Aliexpress.