Miklor
First off, I am not a dealer, manufacturer or distributor, so I have nothing to gain by inflating or deflating the performance of a radio. With that being said
...
I recently acquired a Leixen NOTE handheld and would be amiss if I didn't post a review. I don't do "unboxing" videos on YouTube as I feel you know how to open a box the same as I do. You open the box, look inside, and say "Wow", everything looks like it's here. So, let's get started
...
What is the Leixen NOTE
Leixen, the same company that introduced the VV-898S BackPack radio, has once again introduced a product that is like no other out there. A 25W air-cooled handheld portable mobile.
The NOTE is a 16 Channel UHF transceiver, the likes if which I have never seen before. The description is not an error. This is a dual purpose tri-power radio that can serve as a 5W/10W handheld, or a 25W mobile all in one package..    

In the Box
Included with the transceiver are: the following:
- 12.6V 4A (4000mAh) Lithium Battery
- Battery Charger with 110-220VAC wall adapter
- UHF Antenna
- Heavy Duty Belt Clip
- Carry Strap
- 8 page English User Guide
Size / Weight
Weight: 550g (19.2 oz) with battery
574g (20.4 oz) with battery and antenna
Size: 170(H) x 77 (W) x 42 (D) mm (6.7 x 3.0 x 1.6") 
The NOTE is definitely larger than the average handheld.
Size Comparison
Enclosure & Keys
The case is solid, and as expected, larger than the average handheld. There are 3 programmable keys (Two on the side, one on top) that can be configured with any 6 of the 7 possible functions, which includes Scan, Scan Add, TX Power, VOX, Fan. Moni Lock, SQL Momentary.
The LED on the right displays the power level when transmitting. Blue=Low Violet=Mid Red=High. The radio is terminated with a standard SMA-M connector, requiring an antenna with an SMA-F connector.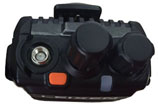 click to enlarge
Transmitter

T
he NOTE is advertised as 25W on high power, and holds true to those estimates.
Running the radio at high power into a Bird Wattmeter for 3 minutes showed no decrease in power. There's a small thermally connected cooling fan inside the NOTE's case. On high power, the fan turned on after about a minute, It's very quiet and does keep the radio at a respectable temperature level.
- Precaution:

When using this radio in the field, use proper RF practices. I would avoid running the radio in the high power position with the antenna directly next to your body. My recommendation would be at least a foot or more away with an external Spkr/Micr.
| | | | |
| --- | --- | --- | --- |
| Freq | Low | Mid | High |
| 446 | 4 | 10 | 26 |
| 460 | 4 | 10 | 26 |
Cooling Fan

This is the first handheld I've seen with an internal cooling fan. It appears to be properly vented an pulls the warm air from inside the radio, not just the heat sink. It's thermally regulated and only comes on when required. On low power, it rarely comes on, and stops automatically when cool. There's a software option to disable the fan, but my recommendation is to leave the option turned on.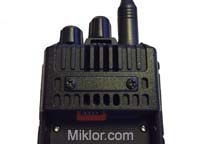 click to enlarge

Antenna



The included antenna measures 15" in length and is specifically built and rated to handle 25W, where traditional antennas are rated at approx 10W.

As a word of caution, I would very careful using an antenna other than the one supplied unless running a mobile antenna rated at 25W or more.. There may be a temptation to use a smaller antenna, but I can almost guarantee you will damage the radio and the antenna on the high power position.


| | | | | |
| --- | --- | --- | --- | --- |
| Freq | 446 | 450 | 455 | 460 |
| SWR | 1.2 | 1.3 | 1.4 | 1.5 |
Mobile Operation

For mobile operation, when using an outside antenna, I strongly recommend an SMA-M to BNC adapter that sits flat against the radio. This will put much less strain on the radios connector.

A standard Kenwood or Baofeng 2 pin style Spkr/Micr is also compatible with this radio.


Receiver

The radio has 16 channel capability with a range of 400-480MHz. The receiver sensitivity is on par with any mobile I've used in the past and there's plenty of smooth, clear and loud audio.


Battery

The NOTE has a slide-on 12.6V 4000mAh battery. This is not your conventional 7.4 volt battery found in most handhelds. On High Power (25W) this handheld can draw as much a 3500 mAh and this battery handles it quite nicely.


Programming Cable and Software
The
software
for the NOTE is fairly basic and easy to understand. .The programming cable required is the standard Kenwood / Baofeng style cable. My recommendation is to purchase a cable that utilizes an FTDI chipset, such as the
PC03
. It may cost a few dollars more, but it's plug-n-play. If a generic cable is acquired, it may require a backdated driver. Those drivers can be found at
Cable_Driver
My recommendation is to purchase a good cable from the start.
RF Safety

RF energy at any power level should not be taken for granted.
RFSafetySolutions.com
explains the effects of RF on the human body. An excellent tutorial for beginners and old timers alike.
A note of caution regarding the radios power. 25W is a lot of RF power. It makes for an incredible radio, but that type of power must be used responsibly. This radio is five times that of a standard handheld.
I use mine in the 5W/10W position as a handheld. On low power, the battery seems to last forever. I only use the high power 25W option when operating in my vehicle with an outside antenna.
Conclusion
If you are looking for a single band UHF transceiver that can be used as a base station, mobile, or handheld, the Leixen NOTE is definitely a radio to consider. The manufacturer's intent is to eventually produce a similar VHF version.