DMR (General Info)

It is important to recognize that there are several digital modes used in ham radio, and they are not compatible. There is DMR, widely used by Motorola (MotoTRBO), D-Star (developed by Icom), and C4FM Fusion (developed by Yaesu). Other standards include P25, dPMR, NXDN, etc.

Even though these radios are all 'digital', they will not talk to each other. Before purchasing this radio, be sure to confirm the digital standard you need is DMR.


MD-380
The TYT MD-380 is a single band (UHF or VHF) handheld with dual mode capability that can be used as an FM transceiver when not in the DMR operating mode. There are no dual band radios available at this time as these were originally designed for commercial use, where dual band is not a requirement for business operation.
Although the greater majority of repeaters are UHF, I purchased the VHF model as the closest repeaters to my home are 30-35 miles away and all three are VHF.

In the Box
Included with the radio are the:
- 2000mAh Li-Ion Battery
- 81 page User Guide – English
(Download)
- Charger base & AC adapter
- Belt clip
- Antenna (1) – 6 3/4" (17cm)
- Antenna (2) – 3 3/4" (10cm)
- Driver and Software CD
- Programming Cable
This is not always included with the radio.
You must confirm when ordering.
General Description

- VHF or UHF
- DMR / FM
- 1W / 5W transmit
- 1000 channel
FCC Part 90

Certified
The MD-380 is FCC Part 90
Certified
and compliant with U.S. FCC Commercial specifications.
- FCC ID: POD-MD380 and POD-MD-380V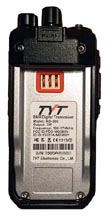 click to enlarge
Enclosure
The MD-380 case has a solid feel, weight, and durability that gives the impression that if the radio is dropped, the concrete would crack before the case would. It weighs in at 9.4 oz (266g) with the battery attached.
Transmitter
The frequency range is VHF 136-174 or UHF 400-480 MHz. Along with DMR, the radio also supports FM, both Wide and Narrowband.
OTA audio reports are excellent and power levels were right where the should be.