Ham Radio - Camera - Computer - F8HP - UV5R - Baofeng - Pofung
Product Review


QYT KT8900
aka JT6188, TD8900, MP300, 8900mini


June 15, 2015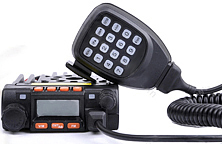 Compact 25W
VHF/UHF Mobile Transceiver



136-174MHz / 400-480MHz
FM Broadcast 87.5-108MHz



Another entry to the compact VHF/UHF Dual Band radio market is the QYT KT8900. It also goes under the names of Juentai JT6188, Waccom 8900mini, MP300, and several others. There's a good amount to cover, so let's start the reviewing process.




In the Box



Included with the radio are:
- Microphone with a 16 button keypad and programming buttons
- Chrome metal microphone clip
- Metal mounting bracket with screws
- DC power cable with connector
- USB Programming cable (which was optional)
- User manual / Pamphlet

Weight: 408 g (14.4 oz)
Size: 118 x 98 x 35mm  (4.7 x 3.9 x 1.4"). 

Note: The manual that came with mine was actually a Pamphlet for the KTUV980. Very close except for the diagram of the radio.




Enclosure



The frame is rugged, with a solid cover and a hefty aluminum heat sink. I would still be cautious of mounting the radio in an extremely tight location. As you would with any transceiver, it will need room to breath.

A solid metal mounting bracket is also included in the package. The radio is terminated with a standard SO-239 connector.




Transmitter



- Power: The KT8900 is rated at 20-25W and holds pretty true to those estimates.

A 13.6VDC power supply used emulate a standard auto battery with the engine running. The radio clocked in at a solid 25W output on VHF with 19W on low power. UHF clocked in at 20W and 10W. Low power is a bit higher that I personally prefer. I'd like to see future models come in at about 5-7W.

This is enough power to get you into about any repeater you hear. The OTA audio reports were excellent.

Running the radio at high power into a Bird Wattmeter for 5 minutes showed no decrease in power. The heat sink was warm to the touch, but definitely not hot.

- Frequency Steps: The frequency steps range from 5.0 to 25 kHz. For those channels requiring 2.5kHz frequency settings, the 6.25 or 12.5kHz steps might get you where you want to be.

- Audio Scrambler
Although there is an Menu option for Audio Scrambler, the option does Not exist.




Receiver



The receiver sensitivity is on par with any mobile I've used in the past. The receiver audio is smooth, clear and loud. You must mount the radio where the radio speaker is in the clear, as there is no external speaker jack.


Microphone

The radio comes with a full function keypad style microphone.
Functions include: Menu, Up, Down, A/B, Exit, Reverse, Scan and Lock.

The RJ-45 microphone jack has the same pin output as the Kenwood.
Pin Diagram.


Display

The radio has a tri-color display, allowing color options of the familiar blue, orange and purple.  The LCD colors can be selected to suit your personal preference with a screen size of 1.4" (3.4mm) wide. The LCD can be formatted in three different formats: Alpha Characters, Frequency, or Channel number.




Programming



Manual programming is pretty straight forward once you enter a few channels. A Manual Programming guide can be found at Program Guide with a Menu Definition summary available at Menu Definitions.

The procedure for entering a Repeater channel manually is a bit tricky. While you can enter a channel with all necessary options (CTCSS, etc) in the VFO mode, saving the data to the Channel mode will lose the offset. The procedure for entering repeater channels can be found at Miklor_Programming.

There is a single bank of 200 channels. You can set a channel to be removed from the scan list, but there are no separate Scan Groups with this radio.

Although the radio is not shipped with software, it can be downloaded from the vendor's website or at Miklor.com KT8900_Software.

Although some vendors advertise the software as not Vista, Win7, Win8 compatible, I have found that the software works well on my Win7 PC. It May, however, require the procedure found at section 3 at the Miklor FAQ.




Programming Cable



The programming cable is a 1m (39") USB to 3 pin 3.5mm.
Note: Some vendors are supplying cables that require a backdated Prolific driver. If this is the case, Prolific Driver 3.2.0.0 can be found at KT8900_Cable_Driver




Front Panel Operation



The buttons may be a bit difficult to read in the dark. There is enough light to show where the buttons are, but not to clearly read them. Fortunately, the microphone keypad is well lit, so programming can easily be done via the keypad.
The 4 upper buttons are Function, Call, Monitor, and Power, while the lower 3 are for VFO/MR, Exit A/B, and FM Radio.

Update: The Monitor button on the original KT8900 read MOM. This has since been updated to MONI. Something got lost in the original translation.
Up to six Alpha Numeric characters (upper and lower case) can be displayed to identify each channel.

Scanning in the VFO mode allowed me to scan either the VHF or UHF band. In the Channel mode, the scan would select any channel in the list regardless of band.




US FCC Part 90



This radio is Not Part 90 approved for commercial operation.


Known Concerns
Note: Original review was written June 2015. Issues below may have been resolved.

- No Audio on an Active Channel
When changing or returning to an Active Channel, no audio is present. You must press [EXIT], or press the PTT to open the squelch. Refer to Section 3 at the Miklor FAQ.

- Tone during Scan (workaround)
During a channel scan, a tone is heard through the speaker when an active channel is found. This requires pressing the PTT to reset.

The workaround for this is to turn OFF the Beep Tone. (sound familiar ?) With the tone OFF, when a station is detected, the receiver will stop and receive normally.

Although my transmit audio is fine, I have heard reports that some have replaced microphones and cartridges.

Pros

Small compact size
Nice 25W power level
Lightweight and durable enclosure
Heat sink handles the power with no issue.
Excellent sensitivity as well as transmit and receiver audio quality.




Cons



The receive audio issue when selecting an active channel.
The tone during the scan cycle that requires a workaround.
No external Speaker jack. The port in rear is for programming cable only.
No 2.5 kHz steps (relatively minor)




Conclusion



This radio has a lot of potential, with clear audio, size, power, etc. The concerns above can be a little annoying, but not a deal breaker. It would be perfect for a Go Box or small vehicle. For the price, it's not a bad little starter mobile.


Additional Information (Nov 2015)

The bugs above have been resolved with the newest revision.
Compare KT8900 to UV2501.