Here's a different take on old favorite. The Baofeng GT-3WP is a first cousin to the UV82. The difference is in the case design. Rated a IP-67 water resistant, it puts a different spin on the durability factor.

In the Box
Included with the radio are:
- Battery
- 29 page User Guide – English
(Download)
- Charger base & AC adapter
- Hand strap
- Belt clip
- PTT Earpiece / Microphone
- Antenna – 15cm VHF/UHF antenna     
Longer than original UV5R antenna, shorter than A-V85
General Information
- The GT-3WP has a single bank of 128 channels.
- Freq Range = VHF 130-176 / UHF 400-520 MHz
- 65MHz-108MHz (Receive only) commercial FM radio
- Single PTT function
- Supports 2.5kHz frequency steps
- Rated IP67 water resistance
Enclosure
My first observation was the feel, weight, and durability of the case. It gives the impression that if the radio is dropped, the concrete would crack, and the radio would be unaffected. The profile is slightly thicker than the average Baofeng and weight (compared to a UV82) is about 2 oz heavier.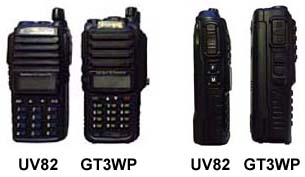 click to enlarge
Added protection shield was added to the area around the volume control knob. This will help prevent damage to the knob if the radio is dropped. The knob is physically about 1/8 inch shorter and the shield requires getting used to when adjusting the volume.
Battery

The 7.4V 1800mAh battery has a different feel when placing to the radio. It presses very firmly into place and clicks when secured. This firm fit attributes to its water resistance.
Note: The GT-3WP battery may not be interchangeable with similar looking models, such as BF-A58 and UV82(T56). There have been reports of incompatibility.
Keypad
The numeric keypad is the traditional style, with the zero properly placed at the bottom. The EXIT key is also used for switching between the upper and lower display, however it is not labeled. That gives it a clean look, but you need to remember the key's double function.
Transmitter
Although the GT-3WP is a tri-power radio, the specifications rate the radio at 1/3/5W. Measuring the radio's power using my Bird Wattmeter, it comes very close to its advertised rating. The OTA audio reports are clear and clean with mellow audio.