GPK-01 Ground Plane Kit
I recently came across this ground plane mount and immediately noticed its construction. The entire mount, radials, and clamps are all Stainless Steel, not just the radials. I find this important if you want to prevent rust.
The entire disassembled mount measure 11" and can be assembled in a matter of minutes. This makes it perfect for a Go Box or transporting. Assembled, the radials are 21" total length, and project horizontally from the mount. The total antenna radial length tip-to-tip is approximately 44" across.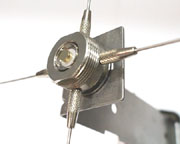 click to enlarge
The bracket is notched for the two included stainless pipe clamps so there is no slippage. However, if you are in the field and not near a 2" pipe or mast, find a tree branch or a 2x4 and you can mount the bracket temporarily with two long screws.
The top brass connector is NMO while the cable side connector is a standard SO-239.
I mounted mine on a two inch pipe using my Nagoya TB-320A tri-band mobile antenna. The results were excellent.
I was in a conversation the other day with a long haul driver looking for an antenna solution. A side view mirror by no means provides a good ground plane and a fiberglass roof is no help at all. The potential solution was to attach a mast to the back of the cab and use his existing NMO mount antenna. This would also work well for RVs using a telescopic mast.
As with all antenna installations, make sure you've got a good ground going to the mount.
If you are looking for either a quick field solution or a permanent mount that is totally maintenance free, I give this mount a two thumbs up.
Available from:
GPK-01 on Amazon and BaofengTech


A dual band antenna option:
Nagoya NMO-72 Antenna Review

A tri-band antenna option:
Nagoya TB320A Antenna Review