Yanton DM980

DMR is growing and so are the entries into the ham radio equipment market. This single band Tier II DMR handheld has been around for a while (2015) and was designed primarily for commercial operation, but also adapts nicely to ham radio. Let's take a look at what's...


In the Box

Included with the radio are the:
- Li-Ion Battery (2800 mAh)
- Belt clip
- 14 page User Guide – English
- Hand Strap
- Charger base & AC adapter
- Antenna – 4.75" (12cm)


General Description
- DMR Tier II and FM
- VHF or UHF Single Band
- Size: 4.7 x 2.6 x 1.4" (120 x 65 x 35mm)
- Weight: 9.2oz (260g) w/ant & battery
- 136-174 400-480 MHz
- CTCSS/DCS DTMF
- 1W / 5W transmit
- 1000 channel
- 64 zones
- 16 channels per zone
- 1024 contacts
- DMR DB area (none)


Transmitter

The frequency range of the DM980 is either VHF 136-174 or UHF 400-480 MHz. Along with DMR, the radio also supports FM (12.5 and 25.0 kHz). The one I used for this review is a UHF model.

My over the air audio reports were very good with plenty of audio gain to spare. There is no audio gain control, but speaking across the front of the handheld about an inch from the microphone seemed to do the job quite nicely.

The radio holds true to its power specifications. Conservatively at 4W on UHF, the radios output level came in at a respectable 4.3 into a calibrated Bird Termaline wattmeter.

| | | |
| --- | --- | --- |
| DM-980 | Low | High |
| UHF | 1.4 | 4.3 |

Receiver and Audio


The receiver sensitivity is very good on both digital and analog. The receiver has plenty of audio to go around with a one watt audio amp. The screen shows volume levels from 0 to 20. The smooth listening level is around 4/5, level 10 is plenty loud, and level 20 is mega loud. I found the audio tone a little on the high pitched side, but definitely not objectionable.


Enclosure

The DM-980 case has a good solid feel and weight, and fits the hand well. It weighs in at 9.2oz (260g) with the battery attached. Battery removal is a little tight and required a hard press of the battery against the case and a solid fingernail pull to release the battery. The battery then pulls right off.




click to enlarge


The keypad buttons a bit larger than most with a layout of three across and four down. This puts the zero (0) at the bottom of the keypad where I personally believe it belongs. When a button is keyed, the keypad light is bright and easy to read.



click to enlarge



The PTT button requires only a light pressure that doesn't tire the finger to press. There are three programmable side keys that respond to both long press and short press options. (Zone, Scan, VOX, Power, etc.)





click to enlarge



There is also a red alarm button on the top, however, it is not programmable. The antenna connector is an SMA-M requiring an antenna terminated with a standard SMA-F connector.




click to enlarge


Antenna

The included antenna is 4.75" (12cm). The stock antenna performs well, but if you are on the fringe, an antenna like the NA-771 or NA-24J would make a bit of a difference (2-3dB). A difference would be expected, but I'll probably continue using the stock antenna.




click to enlarge


Display

The radio has a multicolor display. The main background is a sky blue with multicolor icons. The screen size is 1.1" x 1.4" with excellent resolution. The resolution is very clear, however several display lines are limited to only 8 characters per line.

A
Shows display sample of the icons when in the MENU selection mode.

B
Shows a typical idle channel display
Zone, Channel, Freq, Date (8 char Zone & Channel limit)

C
Shows display while receiving an active station
- Line 1 - "GROUP" or "PRIVATE"
- Line 2 - 8 digit DMRID
- Line 3 - 00:00:00 (receive timer)
- Line 4 - "CALL" (incoming Call)

Note: If a DMR ID is entered into the Contacts list, the 12 char description will appear.
These are manual entries, and not part of a DMR database.


Software / Programming

As with all DMR radios, there's a bit of a learning curve to the programming side. The supplied software is easy to follow, but individual entry is required as there is no '.csv' file import or export.

The DM980 will hold 1000 channels, with 64 zones (16 channels per zone) and 1024 contacts. Being a commercial radio, there is no provision for DMR user IDs,

To assist with initial programming, a sample code plug is posted HERE and can be used as a starter template.


Firmware

The DM-980 has firmware upgrade capability. If future enhancements or additional features are added in the future, the radio can be updated to the most recent model. The radio reviewed was firmware release 16.07.05.


Programming Cable

The Yanton DM-980 uses the same programming cable as the Motorola series GP-328. It's a multi-pin cable that has the UART chip in the USB side of the cable.

Some, but not all, aftermarket programming cables utilize a Prolific chip requiring a special driver. If this occurs, the necessary driver can be found at Prolific 3200.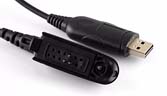 click to enlarge


Battery Charger

The charger base requires a standard 12vdc 500mAh wall wart (included). The LED on the front of the charger base is Red when charging, Green when fully charged, and Off if there is no radio in the cradle. The charger requires that the radio be pushed firmly to the back of the cradle for a good contact. I was able to get a solid full charge by charging overnight.


Conclusion

Although the DM980 was designed more for the commercial market, but shows potential for ham radio as well. The firmware is upgradable, so new features in the future are not out of the question. Currently, support is provided by the manufacturer.

The obvious pros are the following:
- Solid Build
- True Tier II DMR
- Clean audio and power

Concerns are:
- 8 character display limit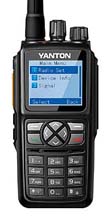 DM-980
Single Band DMR