What's in the Package
The DBJ-1 package includes the tuned antenna with 3/4" PVC end caps and SO-239 RF connector attached. It's individually pre-tuned and ready to assemble.

Assembly
The antenna is pre-tuned and complete with the exception of 5 feet of 3/4" Class 200 PVC. This is a great idea, as the packaging and shipping of a 5 foot antenna is extreme when compared to purchasing a length of PVC. I bought a 10' length at Lowes for $2.60

For the correct velocity factor, the following is recommended:
- Lowe's (stock # 23990)
- Orchard Supply (stock # 648-5908)
- Menard (SKU #6899684)




click to enlarge


I unrolled the assembly and slid it inside the PVC, hand tightened the end caps, and the antenna was complete. For a standard installation, PVC cement is not necessary.


Individually Pre-Tuned
The antenna is not a generic 'one fits all' antenna. It's actually pre-tuned to the desired frequency range. The antenna comes in two flavors, Ham and Commercial. The ham version that I received was tuned to 144-148 MHz and 440-450 MHz. There's also a Commercial/MURS/GMRS version tuned for 152-157 MHz and 460-470 MHz.


Customization
Not only can you select the frequency range, but you have your choice of connector. The SO-239 is standard, but if a Type N connector is desired, it can be substituted at no extra charge.
The standard antenna is rated at 75W, but a 250W version is also available for a few extra dollars.




Performance


Here is where the Rubber meets the Road. The specifications state a 1.3 to 1 SWR on both bands. When tested with a commercial meter (Bird 43 Thru-line), the antenna held true to its specifications.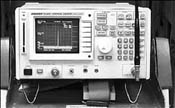 Performance Reference as compared to standard J-Pole
Link


BTW: I mentioned a commercial SWR meter, as many small VHF/UHF meters tend to add currents to the antenna line that can impact the readings. They can come close, but I wanted total accuracy for this test.


Use Good Cable
Here's where you don't want to short change yourself. Everything you gain by running a good antenna goes right out the door if you use inferior cable. Here is a link to a Cable_Chart that can be used as reference.


Installation
The antenna should be supported only by the lower 10 inches of the housing to avoid interaction between the matching stub and any nearby metal, such as an antenna or tower. The antenna is light enough that hose clamps can be used for mounting.


Tree Mounting
If you're lucky enough to have trees on your property you may want to consider this add on.

Carefully drill a small hole and insert a small eye bolt through the plastic cap with a nut on both sides. Make sure the bolt doesn't extend far into the PVC tube where it could interfere with the antenna. Secure the bolt with Loctite to keep the bolt secure. A rope can now hoist the antenna into place for that backyard or Field Day installation.


click to enlarge


Because the antenna will be supported from the top rather than the base, it will be necessary to cement the end caps in place, rather than hand tightening.




So where do I get one?


You can get one by searching DBJ1 on eBay, or the direct price is $29 (for quantity of 4 or more) with a 10% discount for orders over $200. Ed can be contacted directly at:
edsantennas@gmail.com
1163 Quince Ave., Sunnyvale, CA 94087
408-245-8210


Conclusion
The antenna is lightweight, efficient, and very affordable for someone on a tight budget.
I can give this antenna nothing less than a top rating.



From Ed's Desk
More info about the antenna from the developer, Ed Fong WB6IQN