Product Review

Baofeng BF-888S
UHF Handheld
2W 16 Channel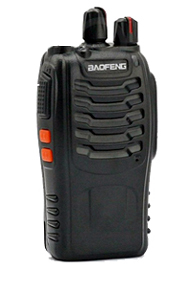 If you're looking for high power, dual band, waterproof handheld, or a radio Part 90 certified for Commercial Service, well... this isn't it. The BF-888S is a very basic transceiver that gets the job done reasonably well at a minimal cost.

You'll notice that this transceiver closely resembles the BF-666S and BF-777S, and that's because it's the same radio in a different shell.

What's in the BOX
Inside the package is a very basic Manual written in English. This was accompanied by heavy duty belt clip, basic 4.5 inch (11cm) UHF antenna, 3.7V 1500mAh battery and charger.

The antenna is terminated with an SMA Female connector, which is pretty standard among Baofeng handhelds. The Li-Ion battery charger is a basic design with an AC power connector on the back (no Wall-Wart necessary).

The body of the radio is about the same size as the UV5R, but weighs only 5.3 oz (150g). With the battery, about 6 oz total. The top of the radio has the traditional Volume/PowerOn switch and a 16 channel selector switch. The left side of the radio has the PTT switch, a monitor button and the infamous LED flashlight. The right side has the standard two pin Kenwood, Wouxun, Baofeng programming cable/speaker-micr connector.

Frequency and Power
The BF-888S is a Single Band, UHF, 400-470MHz, low power radio.
The specs say <=5W, and that's exactly what 2 watts is. I have two and on 446.0MHz, one shows 1.9W the other 2.0W. The factory software only supports 5kHz steps, however CHIRP allows 2.5kHz steps.

The Receiver
The receiver sensitivity is very good, but the selectivity is average at best. In a heavily RF congested area, the lack of filtering would become very apparent. It does support CTCSS/DCS as well as Channel Scan which is a good thing.

The Transmitter
Its 2W will get you around locally and the transmit audio reports are good. Some of these are advertised having a Scrambler or Beat Shift option, which is more of a voice frequency inverter than a scrambler. Getting one with the option, however, is more luck of the draw. Some of the newer radios have a green sticker on the upper back side of the radio that says 'Updated' but you won't know until you open the box.

Software
There is no keypad, so a programming cable is a must. No software is included with the radio, but it is readily available and can be downloaded from Miklor.com. The OEM software is easy to follow but has its shortcomings. The good news is that CHIRP also supports it, so TX/RX offsets are easily programmed.

So why would you even want one?
When these radios first came out in 2012, they sold for upwards of $40 (USD). Since then Baofeng has created much of its own competition, its price has dropped considerably. They are available on Amazon for around $13.
(That's a typo, right? No, not a typo).

Have some Fun
You know the drill. Program one on your local repeater and ask for a report.
Tell the you're using a new K, I, or Y. Don't tell them it's a $13 radio or they will never speak with you again.

Bottom Line
If you are a ham and live close to your favorite UHF repeaters, or just want something for the beach, these are good little transceivers. If you drop it in the water or get sand in it, throw it away and get a new one. You definitely don't want to pay to get it repaired. If you have spare change in your pocket, you just might want to play with one.
Fancy, High power, Lots of options? Absolutely not.
Simple, Basic, CHIRP compatible, and gets the job done? Yes.






Radio can be purchased at Amazon