Ham Radio - Camera - Computer - F8HP - UV5R - Baofeng - Pofung

APRS-K2

APRS Interconnect Cable

November 2016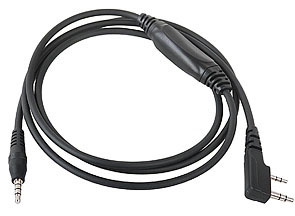 APRS-K2 interface cable

The APRS-K2 cable allows you to interface your handheld transceiver with your existing mobile device, including. iPhone, iPad, and Android.

One end of the cable uses the Kenwood style K2 connector, while the opposite end is terminated with a TRRS connector. Also included with the APRS-K2 was a Reverse Adapter to insure compatibility with all devices. This adapter allows cable to connect to earlier 3.5MM TRRS standards, such as Nokia. App Driven

The APRS-K2 cable uses a virtual TNC found in several apps, such as APRSDroid, APRS.fi, and Pocket Packet. Plug in the cable, turn on the VOX, and you're pretty much set to go.

Product Description

BTECH APRS-K2 TRRS / APRS Cable is a simple way to start using APRS by using devices you already own. The BTECH APRS-K2 Cable will quickly connect your radio to APRS by using virtual TNC (app driven) on your tablet or device. The APRS-K2 cable is built with a custom circuit board that will automatically adjust the audio for clear packet transmissions with minimal adjustment; along with protecting your devices from strong over modulated signals.

Along with allowing APRS functionality the APRS-K2 cable can provide a simple interface gateway to allow several features to your radio!

Easily record radio conversations:
By connecting the APRS-K2 cable between your radio and any recording (line-in) device.

Use the APRS-K2 cable as a Mic In Connector:
Set up VOX on your radio to accept any form of incoming audio - such as a Push-to-talk application on a Phone - or a Line-out application from your computer.

Use the APRS-K2 cable to push transmissions over a speaker system:
Easily play audio over a intercom or speaker system from your handheld.

With a backup radio and your own ingenuity, the APRS-K2 cable can serve as an interface for a variety of applications for any amateur. Compatible with Kenwood K2 Accessory Slot Radios (such as BaoFeng, BTECH, Wouxun, TYT) Compatible with all phones, tablets, and computers with 3.5MM Audio In/Out Ports


ISS Slow Scan TV Images

Another use for the APRS-K2 would be receiving SSTV satellite communications. Periodically, SSTV images are transmitted from the ISS. Using an APRS-K2 Cable and the appropriate software to interface with your tablet or iPhone, you would be able to receive these SSTV images.
Here's a link to: ISS TV (SSTV)


Includes:
APRS-K2 Cable
Reverse Connector Adapter
Quick Start Guide




Conclusion:


The cable came with a simple one page instruction sheet which had me up and running in about 10 minutes after I loaded the APRS app.
- Plug in the cable
- Set your handhelds volume control
- Turn on the VOX
- Set your handheld to 144.390 (US)
- Activate the app

That's all it took. If you've been considering building an APRS cable, you might find this an easy Plus and Play alternative.


Can be ordered from: Amazon
If outside the US, contact Baofeng Tech via their website.