Miklor
First off, I am not a dealer, manufacturer or distributor, so I call 'em like I see 'em. With that being said, let's take a look at...
What's in the Package
- Antenna 16
.
3" (41
.
4cm) with SMA-F Connector
- Rubber Grommet (required by some radios as a spacer)
Construction
Something I noticed as soon as I opened the package was the connector at the base of the antenna was brass. Most antennas use chrome or a chrome alloy, which looks nicer, but brass is a much better conductor, ranking with silver and copper.
What makes it different
Handheld antennas have three main characteristics: Size, Gain, and Performance. This antenna adds an additional item. Flexibility.
Size:
The Nagoya NA-24J is a 16
.
4" long. This is nearly a full inch longer than the popular NA-771.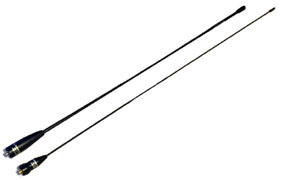 click to enlarge
Flexibility:
Here's where the NA-24J excels. The antenna element is less than half the thickness of the NA-771 and about 1/3 the weight. The 24J weights in at mere
.
3oz (8
.
5g) as compared to 1
.
0oz (28g) for the NA-771.
This may not seem like a huge difference, but some smaller handhelds tend to fall over when sporting the larger 771 antenna. The element easily holds its vertical position, yet is flexible enough to be tied into a loose knot.
Gain:
Rated at: VHF
2.30
dBi UHF 3

.

4dBi



Performance:
Excellent. Noticeably better than the stock 7" antenna found on most handhelds.
Over-the-Air Tests
OTA tests were made was between the stock antenna the 24J and there was a definite improvement. I found the performance equal to that of a genuine NA-771.
SWR between 144 and 148MHz did not exceed 1
.
2
:
1
| | | | | | |
| --- | --- | --- | --- | --- | --- |
| MHz | 144 | 146 | 148 | 155 | 160 |
| SWR | 1.2 | 1.1 | 1.1 | 1.3 | 1.5 |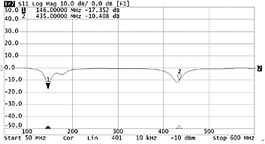 click to enlarge
UHF came in under 2.0 at 446MHz.
Conclusion
If you are looking for a lightweight dual band antenna with good performance and flexibility, the Nagoya 24J is definitely an option to consider.