Repair or Build your Own
Programming Cable for about $2

Frustrated with that generic programming cable?
Here is a $2 solution might just be your ticket to sanity.

It's a simple project that utilizes a CP2102 board.
Say goodbye to the backdated driver issues.
Instructions and graphics can be found HERE.



8/15
/2015
CountyComm GP-5/SSB
1.7 - 30MHz AM, FM, SW, LSB/USB Handheld Receiver

SDR technology at its best.
Ideal for Campers, Preppers, SWLs and hams that can't
leave their radios at home when on vacation.
Note: I do not sell them. I just review them.



Click to enlarge

The Review and Specifications can be found HERE

8/5

/2015
Anytone ANILE-8R
now available in a VHF only
Part 90 certified radio

The same 16 channel Anytone ANILE-8R available as a UHF radio
is now available as a VHF commercial FM transceiver.



A feature list can be found HERE

For FAQs, Software, and other information
can be found at Miklor.com
7/15/2015
Baofeng / Pofung UV-82 HP
 
The UV82 HP combines the features of the
UV82, UV82C, and F8HP into one radio.

New / Combined features include:
High Power  7-8 Watts, Ability to disable VFO
Dual PTT w/Sync capability
1000, 1450, 1700, 2100Hz Tone Burst
CHIRP Compatible


Review of UV82 HP found HERE

6/17/2015
Product Review

Nagoya UT-308 SMA
Magnetic Mount Mobile Antenna
Dual Band VHF/UHF

Nagoya has just added a Heavy Duty Dual Band Magnetic Mount antenna to their product line. The test results were very impressive. If you don't want to drill a hole, this may be your best option.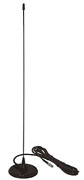 Click on image for details
5/22/2015
Product Review
Leixen VV-808S

Single Band VHF/UHF Mobile
Here's a look at an inexpensive single band mobile
that might just fit in your compact vehicle or Go Box.
When a single band radio is all you need..
4.7 x 3.5 x 1.6"
Click on image for details
5/20/2015
Product Review
Leixen N8 Frequency Counter



Looking to build workbench for your radio projects?


You may want to consider adding frequency counter.



Click on image for details
Compare 3 basic Counters
5/2/2015
 CHIRP Support now available
for the new Anytone 8R series


Article can be found HERE
4/5/2015
 Repeater Book - Did you know
"There's an App for That"


Whether you do a lot of traveling, or just want a list of the
repeaters nearby, you may want this app on your smart device.

RepeaterBook has an app for your smart phone or tablet
that determines your location and lists the local repeaters
by Band, Distance, and Mode, including FM, DMR, D-Star, etc.
A very handy tool.

Screenshots

Review and Walkthrough
Anytone TERMN-8R / OBLTR-8R

Brad Schumacher, KG7NXH, has put together an excellent
presentation of the new Anytone transceiver, comparing
it side-by-side to a Wouxun and Kenwood and
addressing many of the features.

Walkthrough Video

FAQs, Software, etc: Miklor / 8R


4/3/2015
Anytone 8R Series


A new series of Four Anytone transceivers
has recently entered the market.
At the top of the series is the TERMN-8R

The first transceiver to be US FCC approved for
Part 90, 95a, 95j (Commercial, GMRS, MURS)




Bi-Directional Cross Band Repeater - Dual Receivers AM SW: 2-3 - 30MHz
Full Aviation band (108-136MHz RX) - Upgradable Firmware

A review of the TERMN-8R can be found HERE
Full list of features & series Comparison

For FAQs, Software, and other info: Miklor


3/9/2015
Cure for the Baofeng Squelch Levels...
The Baofeng Squelch Level Range
can now be adjusted using CHIRP

The long time issue with the UV5R / UV82 has
been the squelch 'Range' was either ON or OFF.

Using the new Service Settings tab in CHIRP's
Latest Daily Build, the range is now adjustable.

Information with graphics can be found at
Miklor/Squelch


1/11/2015
Cure for the GT3 cable...

Having difficulty programming your GT3 style radio.
This may be the cause and easy cure.

GT-3 Cable Issue Resolution

11-26-2014
New Product Review...

New Product Review...
Blackhawk VHF/UHF J-Pole
If you're in the market for a VHF/UHF J-Pole,
here's one you may want to consider..
The test results were excellent.


Blackhawk J-Pole - My Review
11-21-2014
New Product Review...

Baofeng / Pofung UV82
AAA Battery Case
Here's an alternative battery case for the UV82 series,
including the UV82C, 82X, 82L and 89.


UV82 AAA Battery Case - My Review

10-23-2014
New Product Review...

DBJ-1 Dual Band Base Station Antenna
DBJ-2 Dual Band Roll-Up J-Pole Antenna
If you are in the market for an excellent Dual Band
antenna on a limited budget, you may want to
consider one of these creations by Ed Fong WB6IQN.


My DBJ-1 Review on Miklor
My DBJ-2 Review on Miklor
9-16-2014
New Product Review...

Leixen VV-898
VHF/UHF Compact Mobile
If you are cramped for space in a small vehicle, boat, etc.
you may want to take a look at the new Leixen VV-898.

Much smaller than a standard mobile,
but definitely not a repackaged handheld.

My VV-898 Review


VV898 on Miklor

9-16-2014
Product Review...

Baofeng BF-F8HP


Tri-Power 1, 4, 8 watt VHF/UHF Handheld



It appears Baofeng/Pofung is listening and moving in the proper direction.
Here are a few of the items addressed:

- Tri-Power (1, 4, and 8 watt) * *
- New 2nd Generation chipset
- DTMF keypad tone issue finally resolved
- Compatible with All UV5R accessories
(including AA and 3800mAh battery packs)
- 76 Page User Guide
- CHIRP software compatible

* * The review shows actual side-by-side power level tests between UV5R, UV82, BFF8+, and F8HP performed using a calibrated Telewave 44A.

BF-F8HP - My Review

8-12-2014
Product Review...

Nagoya 702-220


220MHz Single Band Antenna



If you are the owner of a Baofeng UV5RAX, UV82X or any handheld that operates on the 220MHz Ham Band, you will probably want to take a look at this antenna review. It's a single band, 11.5 inch antenna cut specifically for the 220MHz.

Nagoya 702-220 - Review

7-5-2014
New Model Announcement
Baofeng UV-82C (Commercial)

Not just a cosmetic upgrade.
New Features include:

1. Field Programming Lockout
2. Dual PTT synchronization
3. Part 90 Certified (Commercial)



UV82C Review





CHIRP software compatible

Note: In Dec 2013, the UV82 electronics met the RF standards for Part_90 approval, but still required firmware/software alterations to fully comply for US importation. These changes are now available in the UV82C for commercial use.
Review - Wouxun UV8D...


The new Wouxun UV8D has hit the US market.
I recently had a chance to use the new Wouxun model UV8D first hand.
Quite an impressive radio which now includes Dual Band Repeat.

UV8D Transceiver
Product Review...


Have you ever heard of a Baofeng BF-888S ?

If you have a ham license and want a radio for the beach, this might be one to consider.
If you get sand in it, oh well...
16 channel, UHF, 3W

BF-888S Review
New Product Announcement...


Dual Push-to-Talk Microphone
for the Baofeng UV-82 series handheld
It is also compatible with Kenwood, Wouxun and Baofeng
handhelds using a single PTT button.


Dual PTT Microphone
Simple Project...

Cross Band Ham Repeater / Fox Hunt Remote
Here's a simple project that has many potential uses.
It requires 2 UV5R, UV82, BFF8 or UVB5/6 series radios.
No internal connections required.
Note: Proper licensing is required for using and testing this project.


Cross Band Repeater Project
Product Review...

Heavy Duty Battery Eliminator for the UV82 series
In the world of rebranding and clones, my goal is to identify, bench test and qualify new products as they become available. This Battery Eliminator is neither a clone or rebrand.


UV82 Battery Eliminator
What is the Newest and Best Model UV5R to purchase?

How many times has that question been asked?

A short summary of differences, models, and compatibility can be found at


Newest Model
SMA Connectors
Graphics added to the Miklor site for reference.
There have been many discussions regarding the SMA antenna and radio connector types found on various handhelds. To assist in making the proper antenna selection, Miklor has added a graphic display of the various connector types.


Miklor SMA Graphics
Miklor was created in May 2012 to assist with the operation and programming of handheld radios. We sincerely hope you have found the site useful.

If you would like to help support the Miklor site, Here's how...

If you know of someone that might benefit from Miklor.com, please have them Subscribe to Miklor. If you feel you received this email in error, or no longer wish to receive notifications, just select Unsubscribe.
Miklor Mailing List



Miklor is not a dealer or manufacturer, but strictly an information site.